Although they arose in 1920 in opposition to Expressionism, the work o the Verists and the Magic Realists is associated with those of expressionists.
The difference between the two listed by Franz Roh are as follow:
Expressionism
ecstatic objects ,
many religious themes ,

the stifled object,
rhythmic ,
arousing,
dynamic,
loud,
summary,
obvious,
monumental ,
warm,
thick coloration,
roughened ,
like uncut stone,
work process preserved,
leaving traces,
expressive deformation of objects,
rich in diagonals,
often acute,
working against the edges of image,
primitive civilized,



Post-Expressionism



plain objects,
few religious themes,
the explanatory object,
representative,
engrossing,
static,
quiet,
sustained,
obvious and enigmatic,
miniature,
cool to cold,
thin layer of color,
smooth, dislodged,
like polished metal,
work process effaced,
pure objectification,
harmonic cleansing of objects,
rectangular in frame,
parallel,
fixed within edges of image,
civilized,
The Bauhaus School on the contrary to the other groups was not predominantly expressionist. It only operated for 14 years. Due to teachers such as

Johannes Itten

and

Wassily Kandinsky

, the school did have Expressionism influence.
...........................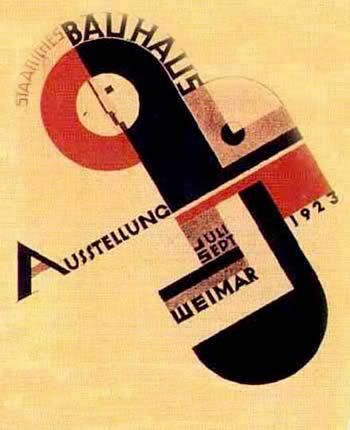 A very interesting painting by

Emil Nolde

,

part of
Die Brücke,
full of colours shapes and spontaneous strokes.
...................................
Other than
Der Blaue Reiter,
different groups had formed. One of those was
Die Brücke,
The Bridge, they believed that art could be a bridge to the future, hence the name. The following painting by
Ernst Ludwig Kirchner

depicts his loneliness even though he is around people.
Ernst Ludwig Kirchner said:


"The more I mixed with people, the more I felt my loneliness."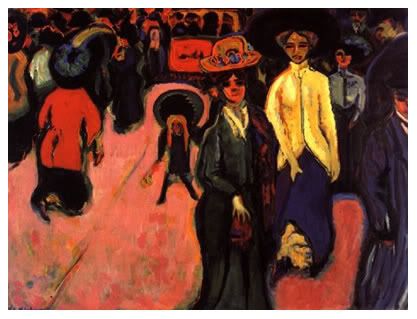 Franz Marc

was an important painter in the Expressionism movement. Expressionism was influenced by Fauvism, Symbolism and Cubism. It is easy to see that in Franz Marc's work which monstly consisted of animals as subjects.
....................................
Russian-born painter and writer Wassily Kandinsky (1866-1944) was one of the most influential abstract
art pioneers
. He was the one that formed the artist's association "Der Blaue Reiter" which believed that the art had to portray 
the world as it truly existed without influencing it with the artist's emotions.
Expressionism is a style of art that started in
Germany
.

It is a complex style that depicts most of the time a distorted world and that portrays the

artist's state of mind

. Expressionism did not only affect the field of painting. It could be seen in literature, theatre, stage design, dance and film too. 
............................................